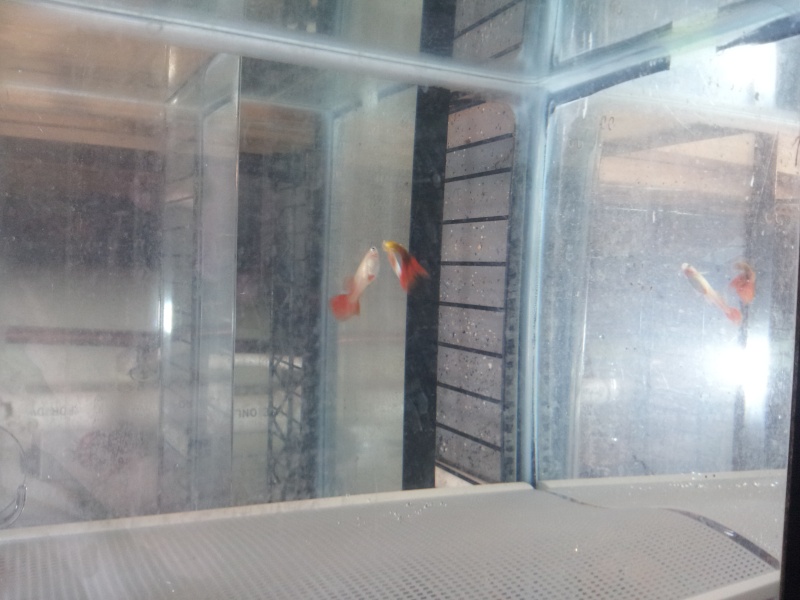 I needed a tank divider fast and didn't want to spend a fortune on said tank divider. A retail tank divider for a 10 gallon tank is about $10. You can build your own for $2.00. I have a pregnant female guppy and hate using my store bought breeder box the thing is just small and I think it stresses her out.
Supplies
2 - sliding report covers (2.59/6 = 0.43 x 2 = 0.86)
--------office depot
--------Wal-Mart should also have them
--------if you have a lot of tanks you can buy 100 for $24 (Wal-Mart online) (making it 0.48 per divider)
1 - sheet of plastic canvas suitable size for your application try and look for the stiff kind (Michaels 0.60)
-------this stuff comes in different sizes I had 7 mesh on hand from what I found on the net it comes in 10, 7, and 4
Total cost 1.46
I had the supplies on hand though
Instructions
-you really shouldn't need these but
1. measure your tank
2. cut your plastic canvas to the inside measurement of your tank
----think about how high you want the mesh to go before cutting think about landscape or portrait
3. take you now cut canvas and place a sliding report cover on each side
4. put your new divider in your tank
5. some please cut them really snug, some please silicon them in, I used suctions cups on either side to hold it up
The test
-well this is still in progress I have a pregnant female guppy I suspect she is going to pop in a few days. I am using size 7 mesh because that is what I had on hand but I don't know yet if the holes are going to be small enough to keep the babies in. I may have to buy some size 4 mesh if the babies get through. I will keep you posted on the results.

- I added a section to the top because I didn't put my sheet in the correct orientation

danr




Posts

: 36


Join date

: 2012-10-09


Location

: Lincoln



I stand corrected the higher the mesh # the smaller the holes.

You need like a size mesh #7 because it is stiff and then if necessary layer like a 10 or 14 on top of that


Update: Well she had the babies the #7 mesh wholes are to big I now have a sheet of stiff mesh#7 and mesh#10 layered on top of that

only two fry survived
Last edited by danr on Sat Nov 03, 2012 9:46 pm; edited 2 times in total

danr




Posts

: 36


Join date

: 2012-10-09


Location

: Lincoln




That's pretty cool Dan, always good to see good DIY projects.

DZ

Similar topics
---
Permissions in this forum:
You
cannot
reply to topics in this forum