None of the pairs I purchase from St. Louis has had babies yet.

I purchase a trio of glass belly guppies and both females have laid a small batch.

Thanks to everyone for your enthusiasm. I've been taking better care of what I have and should have some Black Moscows from the original stock that's been selling at the CAFE auction to share. One pair from St. Louis dropped but the tank is heavily planted so I'm not sure how many. It's a beautiful pair of half-black pastels from St. Louis. They're a few days old and show half-black color. Hopefully there will be some of them to share also. I'm not sure if I'll have any other strains to share but ???



Posts

: 160


Join date

: 2012-02-12


Location

: Lane, IL (near Clinton)



I'm certain my red and blue bi colors dropped because the female was very gravid and now slimmer but I can't find a single fry. I have them in with some small rice fish. I don't think the rice fish would eat the fry but.....? I'll be getting a pair of vienna swordtail guppies next week. I also have some panda moscows that are just babies but are growing fast. I picked up some green cobras from the auction also.
watching and taking notes! I'd surely love to see pictures of these new fish that everybody is getting. (yes thats a hint ) I am gonna have to thin the tanks a couple more times before we head north, my stock is in 10 gallons and they are still having babies... so will have more to share. Will move on some older breeders before i go too.....
if interested in breeding snakeskin/cobra pattern multis or reds or yellows, let me know and i'll set you up with some.



Posts

: 97


Join date

: 2012-12-16



My see thru guppies have spawn and I have about 40 babies


My albino red guppies have had a small spawn, about 6


One of my pastel guppies died, the other female looks like she could give birth any day.


My albino snake skin purchase from the swap have not done anything yet

My blond vienna swords had 18 fry. I thought they would have larger batches? Like 30? The fry are very large which is good. My red blue bi colors had 8 fry on the first drop and just yesterday, 10 fry. There fry are very small. My neon swords from the swap have not done anything yet, but one of the female is getting large. I've been feeding lots of brine plus some egg yolk food I bought at the swap. I'm trying to feed at least 2 times a day and sometimes more. I didn't remove the fry because they seem to be fine with the parents.

Mark, I hope your albino snakeskin from the swap make lots of babies...I'd really like some!
Well they won't say cheese.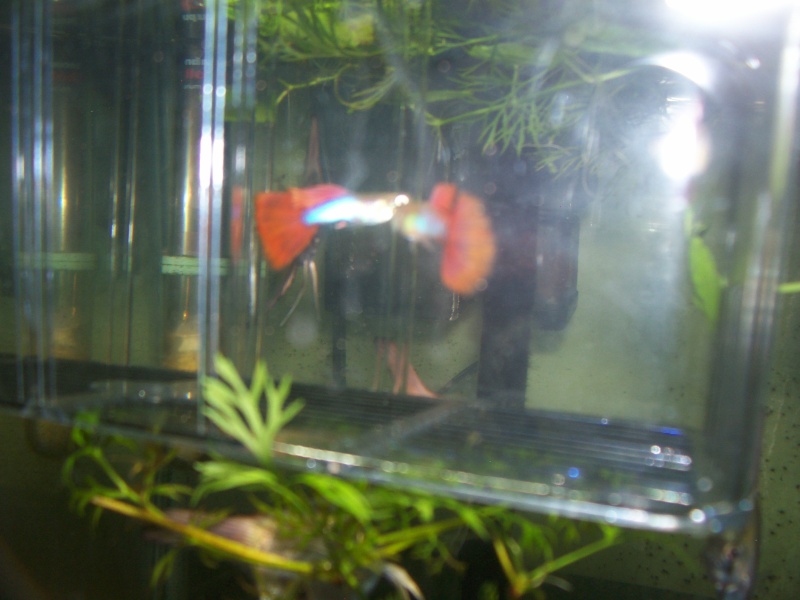 They look nice.

I am still working on my bettas.

Mark
---
Permissions in this forum:
You
cannot
reply to topics in this forum